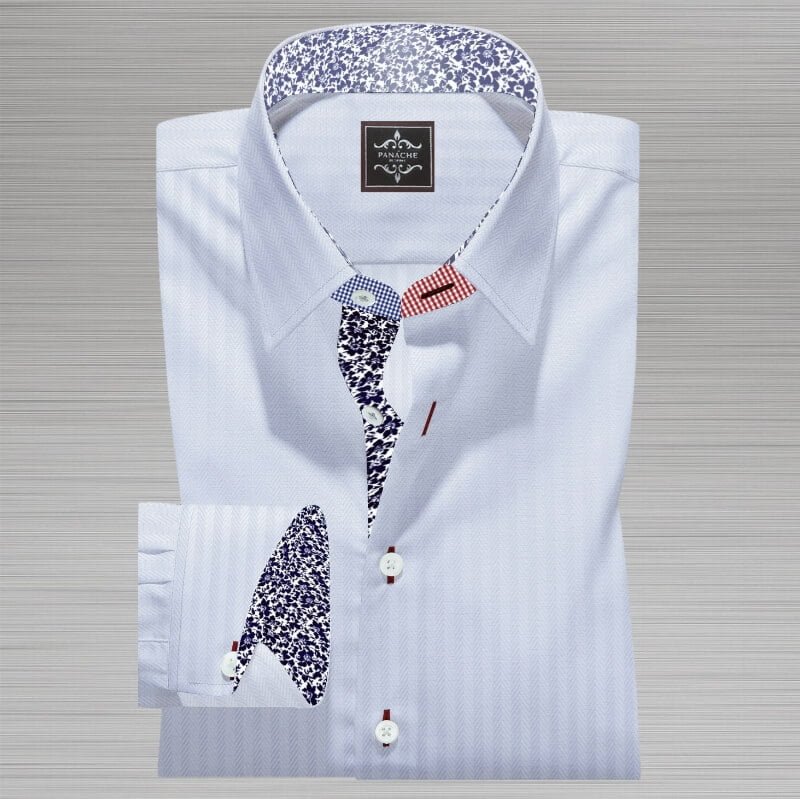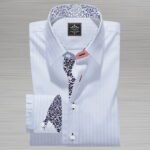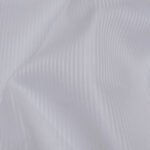 White micro...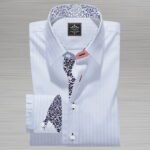 $89.00
White micro Herringbone Shirt Description:
Collar shape: Medium collar with 3″ width and collar stay is a very correct form of the collar in Business and casual shirts.
Without button placket
No pocket if you required pocket mentions in the comment section.
One Button Round cuff and back smooth
Regular fit
Note: We offer custom made if our size chart is not suitable for your body. No extra charges for custom made shirts. Select choose an option and go to Body or Shirt Measurement and add your size.
If you need initial or any other changes write in order description (initial words like maximum 5 words) initial color and position without extra charges.
Description
Additional information
Reviews (0)
Size Chart
Description
White micro Herringbone Shirt
White micro Herringbone Shirt an ancient variant of cross weaving. Micro Herringbone characterized by a distinct V-shaped weave. Its zigzag coat gives the fabric the appearance of a fish skeleton. Mens Dress Shirts
In addition to adding style to a shirt, the zigzag construction also adds strength and durability to the fabric. Pair your herringbone shirt with a sharp suit for a stylish event or dark jeans for a casual look.
The chevron, also calls broken twill weaving, describes a distinctive V-shape weaving pattern that is commonly found in twill fabric. It is distinguished from a chevron unites by the rupture on inversion, which gives it the appearance of a broken zigzag or the bones of a fish such as a herringbone.
A classic fabric with an astonishing visual texture – one of the softest fabrics we've ever encountered in herringbone twill. The 2-ply construction of 100's gives it a feeling of softness and a drape on the body. It just has enough shine to make it perfect for a more visually interesting formal shirt, too.
It is super strong and quite opaque for such a high thread count, making it an incredibly versatile option. The subtle herringbone pattern hangs over the twill shirt. White micro Herringbone Shirt.
FABRIC TECHNICAL DETAILS
Suggested Style:                                                         Business and casual
Weave:                                                                          Herringbone
Composition:                                                               100% cotton
Thickness:                                                                    Medium-light Weight
Wrinkle Resistance:                                                    Wrinkle-Resistant
Shrinkage:                                                                     Standard shrinkage allowances applied
Washing Description:
Wash in 40 degrees centigrade
Hang to dry on a hanger
Iron at medium heat
Do not tumble dry
Additional information
| | |
| --- | --- |
| Collar Size or Measurement | Body Measurement, Shirt Measurement, 14/32, 14/33, 14.5/32, 14.5/33, 15/32, 15/33, 15/34, 15/35, 15.5/32, 15.5/33, 15.5/34, 15.5/35, 15.5/36, 16/32, 16/33, 16/34, 16/35, 16/36, 16/37, 16.5/32, 16.5/33, 16.5/34, 16.5/35, 16.5/36, 16.5/37, 17/33, 17/35, 17/32, 17/36, 17/37, 17.5/33, 17.5/34, 17.5/35, 17.5/36, 17.5/37, 17.5/38, 17/34, 18/33, 18/34, 18/35, 18/36, 18/37, 18/38, 18.5/34, 18.5/35, 18.5/36, 18.5/37, 18.5/38, 19/35, 19/36, 19/37, 19/38, 19.5/35, 19.5/36, 19.5/37, 19.5/38, 20/36, 20/37, 20/38, 20.5/36, 20.5/37, 20.5/38, 21/37, 21/38, 22/38, 22/39, 22/40 |