Mens Dress Shirts
admin
Mens Dress shirts :What do you picture in your mind when you hear about dress shirts? #Mensdressshirts
Most people think of a dress shirt as something that buttons up the front with long sleeves and a collar.
Well, to make it very simple, the shirt has a collar and buttons and long sleeves. It has a barrel and can be buttoned up or buttoned down the front depending on how formal you want to get.
A good men's dress shirt is considered to be buttoned up and comes with a collar, long sleeves and wrist cuffs. It is often customized from a woven cotton fabric that is dyed in various patterns of different colors.
Men's dress shirts range from semi-formal to super-formal, depending on the style you choose.
They are generally worn in a formal manner, usually paired with a jacket, collar sleeves and a tie. Some of them include a stiff front that has a removable collar secured by collar studs.
Dress shirts can also be worn casually. Initially, these shirts were worn as formal wear by both boys and men.
However, since the mid-1800s, dress shirts have become an option for women's clothing, and today they are worn by both men and women.
#Mensdressshirts
Why men's dress shirts?
Dress Shirt Collar Styles
What is the Purpose of a Men's Dress Shirt?
Types of Men's Dress Shirts
Cuff Styles of Dress Shirts
The Difference Between Formal and Casual Shirts
Men's Dress Shirt Fit Guide
Types of Fabrics
Matching Pants to a Dress Shirt
Dress Shirt Clothing Inspiration
What is the Purpose of a Mens Dress Shirt?
Dress shirts are usually an essential part of every man's wardrobe, whether you choose to wear a suit or attend those big meetings in your diary.
In addition to making you look good, they also serve as your status symbol.
The dress shirts you wear have a powerful signal to the people around you. Therefore, make sure you get your favorite into your wardrobe.
The following purposes of dress shirts are essential for any man who aspires to feed his wardrobe with modern and attractive styles.
looks and style
A dress shirt can play a good role in framing a man's body shape. A good dress shirt can support a man by giving him a good look and enhancing his suit or sports jacket.
Besides, it can also stand alone and become the centerpiece of a man's outfit. It comes with multiple color choices which is the best choice for your perfect piece of art. Mens Dress Shirts
design
Men's dress shirts are branded with unique designs that suit your desires. With various collar styles, colors, and changeable sleeve fabrics, they give you the most attractive design options that you need for an essential wardrobe.
best fit
The best fit is basically the reason behind who looks into custom clothing. Therefore, these men's choices are undoubtedly the epitome of tailored garments when it comes to offering the best fitting models in the market.
A well-fitting dress shirt will make you look confident and respectable.
best price
Price is usually a concern in the cycle of buying something in the market. Dress shirts come with different prices, favoring all levels of people.
Types of men's dress shirts.
1.tuxedo dress shirts (tuxedo dress shirts)
Tuxedo Dress Shirts
It is well known that a suit can make a man, but the right shirt is essential to complete the look. When the occasion calls for looking for your best dress shirt, a tuxedo dress shirt may seem confusing at first.
Therefore, with a little knowledge, you can make the right choice when it comes to your tuxedo selection.
In order to settle on the type and color of your best tuxedo, there are some basic styles that you should consider before picking your tuxedo dress shirt. Mens Dress Shirts
These styles are largely dependent on how formal or casual you want your look to be. They include
Fabric and Color
The best color choice for a tuxedo dress shirt is opaque white with a fabric like broadcloth or twill fabric. As it will be seen later, twill fabric is smooth to the touch hence making it a good choice.
Tuxedo Shirt Collar
There are various options for the collar of a tuxedo shirt. These include the spread collar which in most cases is the best option for you.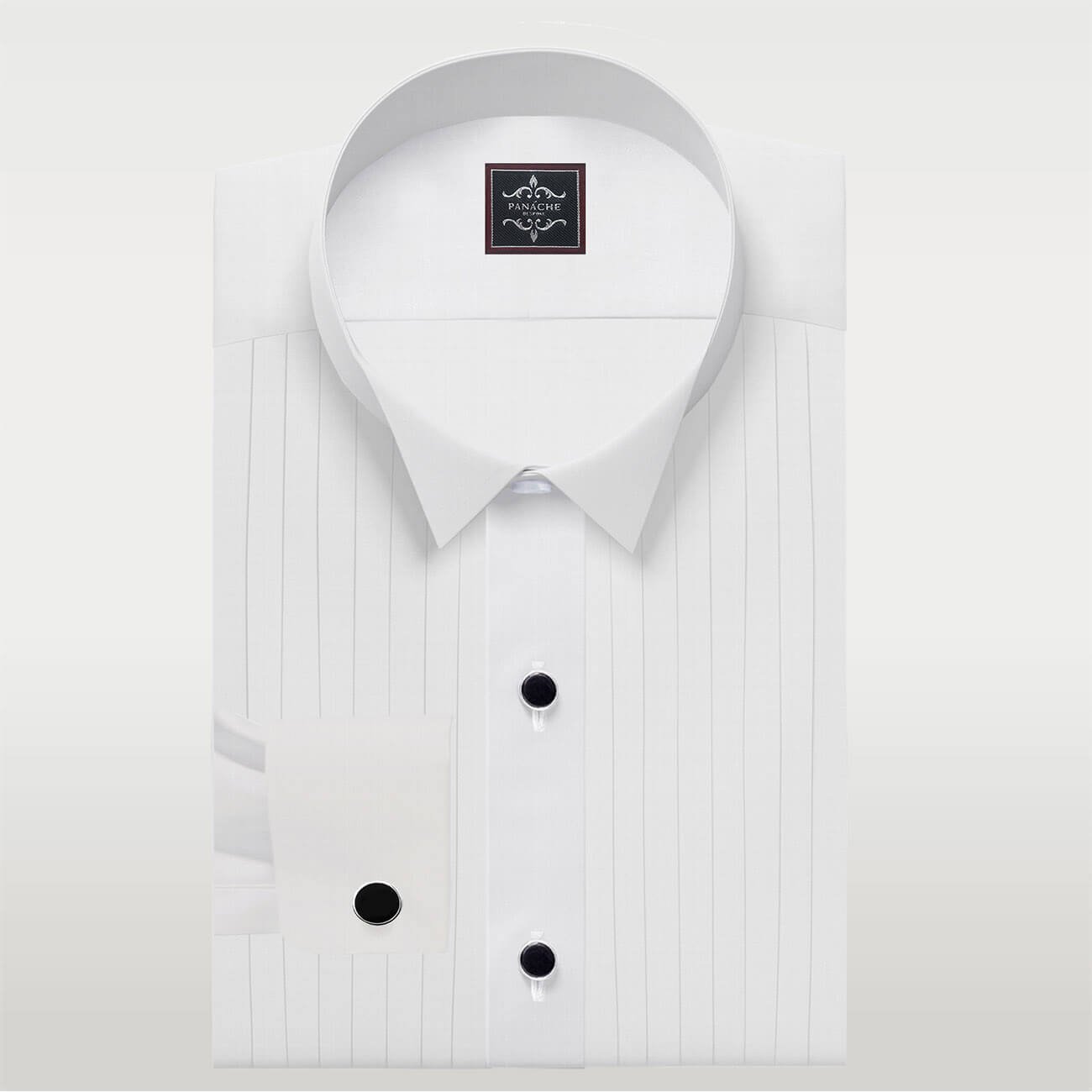 The classic wingtip collar is the best option when it comes to most of the formal white tie events. However, a cutaway tuxedo shirt collar is not recommended for office meetings as it has a more casual look.
French Cufflinks
You should consider wearing your tuxedo shirt with cufflinks that require French cuffs. French cufflinks come in rounded and square varieties. Both varieties are recommended for formal events.
Common barrel cuffs are generally too casual and are best suited only for your semi-formal style.
Studs and Buttons for Tuxedo Shirts
Most tuxedo shirts are designed in a way that their button strips are removable.
This makes it easy for you to replace the buttons with studs whenever you need to. The studs are decorative and help to close the stiff front of your tuxedo shirt.
Plain Front Tuxedo Dress Shirts
If you are wearing a straight tie, then a plain front tuxedo shirt should be one of your top items in your wardrobe. It features a French placket. However, it is the most formal of the options available in the market.
Pleated Front Tuxedo Shirt
This is the most formal option and is generally worn with a bow tie. They can make your perfect match with a sports jacket outfitted with a shawl collar. #Mensdressshirts
OXFORD DRESS SHIRTS
Oxford Dress Shirts Mens Dress Shirts
What makes Oxford shirts look different from other dress shirts is that they usually have a button-down style collar that flips under your jacket collar or lay flat and disappears. These shirts are made from a weave of oxford fabric.
The bottomed down collar feature makes this dress shirt to look more casual, taking away the attention of formal wear. These shirts are preferable to be worn without a tie when you choose to go with a suit.
If your choice is an oxford dress shirt, prefer to match them with a gray notch lapel suit (without a tie), blazer, sweater or Harrington jacket.
These shirts will also be one of the essentials in your wardrobe. They are very comfortable as they are made from soft and wrinkle resistant oxford fabric.
Mens Dress Shirts
Oxford is also a heavy fabric. This makes oxford dress shirts very durable. You can wear them for 5 or more years and they will still look good.
Light blue or white oxford dress shirts can look good on all skin colors. They will also match easily with the rest of your essential wardrobe.
button-down collar dress shirts
Button Down Dress Shirts
These types of mens dress shirts are classic and will never go out of style. From polo players to CEOs, this classic dress is the go-to for any man.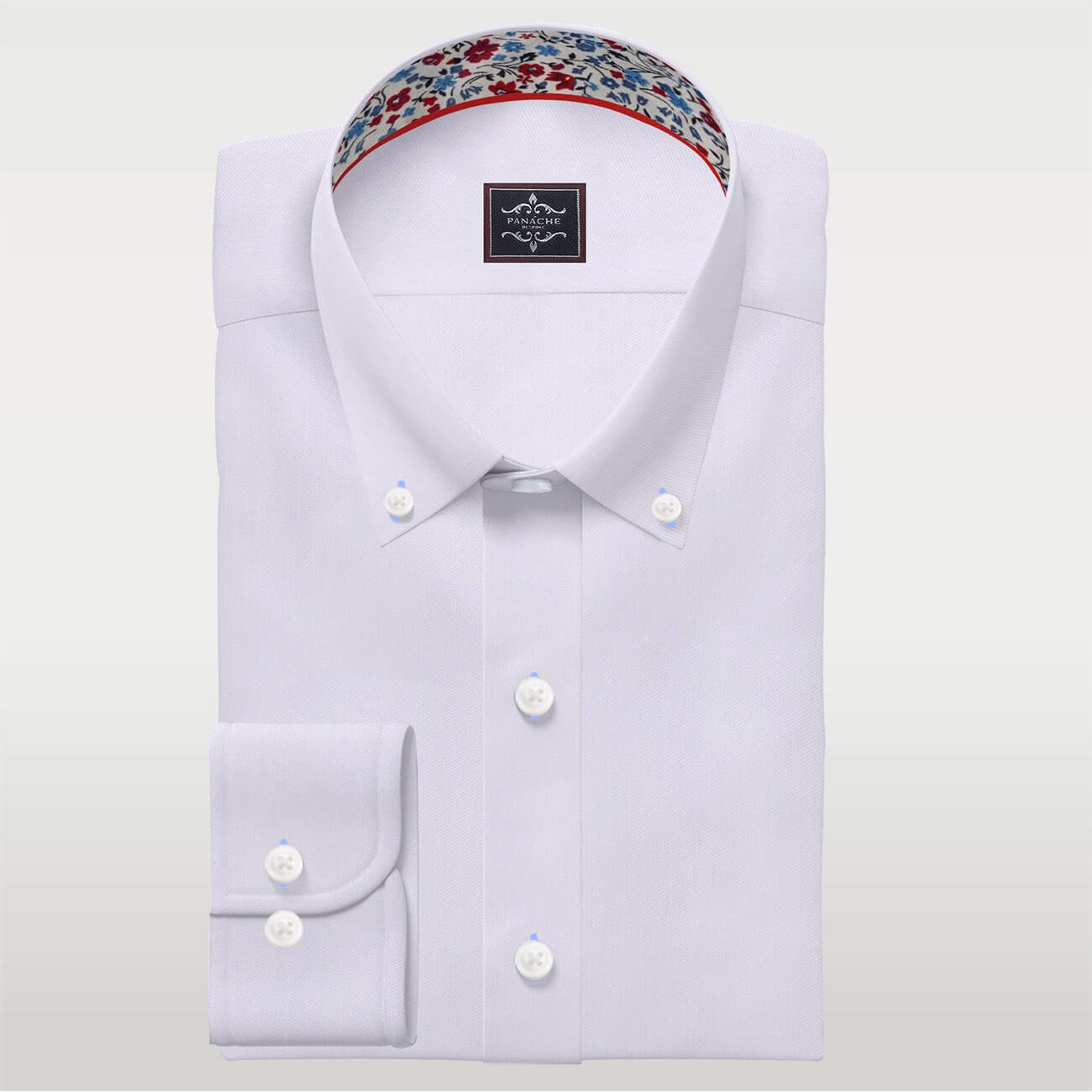 Their matching code ranges from black pants, a basic white tie, and dark wash pants. What makes the button-down dress shirt vibes timeless is its versatility feature.
It is primarily associated with casual styles because of its historical connection to sports. However, some few guys may consider the combination of a button down suit and a collar dress shirt and can look pretty good when they do it the right way.
To keep your swag more casual, pair a button down dress shirt with a knit cardigan or denim pants. But for a more formal fashion word look, sport it with a plaid suit and a dotted knit tie. However, you can rock your style by pairing it with a more casual jacket.
slim fit dress shirt
If you are a fit or slim build individual, these slim fit dress shirts are a great deal to your wardrobe. However, you need to be keen when making your slim fit dress selection because coming up with a fitted dress that matches your body can be a challenging experience. Mens Dress Shirts
There are a number of factors that you need to consider when choosing your best slim fit dress shirt.#Mensdressshirts
Midsection: – You need to make sure that the midsection is not too loose and too close around your waist. Think about how the middle section will fit your sitting position. A very slim fit will tend to pull the bottom button down when you are sitting.
Chest circumference: – It is also important to make sure that the chest width is not too loose or too tight. If you have it too lose, you will end up with extra fabric bouncing all over the place.
Also, if you get it too tight, you will be stubbornly pulling the buttons at the bottom which can also result in darting your shirt.
Armholes: – Armpit fit is mostly a matter of personal preference, but higher armholes are preferable because it eliminates excess fabric from hanging down the armholes.

What is the difference between a formal dress shirt and a casual shirt?
ShirtsWhen we think of the functionality of a dress shirt, a formal dress shirt is generally worn as formal wear with a business suit or tuxedo, while a casual dress shirt is worn semi-formally.
The main features that distinguish a formal dress shirt from a casual one are as follows
Characteristics of Formal Dress Shirts
They are always plain white or any other plain color.
Formal dress shirts have a firm collar that comes in a variety of folded styles
They are almost always worn with a tie.

They have French cuffs.
Formal dress shirts have a high quality of fabric
they are made to be tucked in and have a tail bottom hem.
Characteristics of Casual Dress Shirts
Casual dress shirts have a pattern and are usually not white, unless its linen.
They have less structured buttons under the collar
Can be worn without a tie

Contrasting fabric can be used for the cuffs and collar
Have one or two pockets on the front.6 They are made to be untucked, so they do not have a tail bottom hem.
What are the types of fabrics used in men's dress shirts?

When making a purchasing decision, the type of fabric used to make the dress shirt will determine the weight, texture, and feel of the shirt.
These are the main factors that most people consider before buying the dress shirt of their dreams.
Therefore, we have narrowed down the main types of fabrics used in mens dress shirts that will help you have a proper knowledge of your great dress shirt.
twill / herringbone fabric
What makes twill fabric different from other fabrics is that it is woven diagonally. It is woven and very tight, but softer than poplin.
Twill dress shirts are generally less prone to wrinkling. It is tightly woven and makes a good dress shirt that is not transparent.
Twill dress shirts can be worn all year round, but tend to be warmer, making them ideal for the winter season.
poplin / broadcloth
Poplin is one of the most substantial shirt fabrics with a classic crisp feel. It is woven with a simple over and under weave. This fabric is strong, very smooth and lightweight.
Dress shirts made of poplin fabric are cool and breathable. They are suitable for formal occasions, business looks, and ceremonies. 3.
oxford fabric
Oxford fabric is considered a more casual fabric because it is coarser than other fabrics. It uses heavy threading and is not woven very tightly. In spite of this, it is still comfortable to wear when used for dress shirts.
This fabric does not require much ironing so you can wear it straight after washing. Its heavy thread also makes the oxford dress shirt very sustainable for the summer season.
Oxford dress shirts are the most affordable and are a great pick for evening meetings or casual weekend wear.
The Importance of Shirts in Men's Fashion
Shirts are an essential part of men's formal and casual fashion. A proper shirt can quickly turn a whimsical boy into a dapper cavalier.
Panache Bespoke men's fashion shirts are ideal for men attending business dinners, formal meetings, fun gathering parties, wedding functions, and casual entertaining. These fashion shirts are made of 100% high-quality fabric like Egyptian cotton.
They are also a comfortable alternative to dingy coats and outerwear. With a simple switch in design, you can wear the shirt over or underneath for a stylish look!

Men's Formal Dress Shirts
Formal shirts for men are actually an essential part of a man's life since the pants shirt represents our office look. You can use different unique ways to wear men's formal shirts or dress shirts in a more perfect shape.
These button-down shirts can be long or short-sleeved and can be worn with dress pants for a proper office look. Thus, for any special event or a formal meeting, you can improve your look more with formal shirt pants.
Casual Men Dress Shirts
Men's casual shirts are carefree shirts that manage to make a formal look more casual in your comfort zone.
Casual striped shirts or semi-formal plaid shirts are always comfortable and you can make a smart decision that on what occasion you need to wear them.
You can always use full-length sleeves, short sleeves, slim fit, exact coat, and a regular fit. Thus, you can make a huge number of pants, jeans, khaki pants, and styles from these shirts.
Designer Shirts for Men
Step into the world of fashion with men's designer shirts and make your style the best it can be.SS designer shirts allow you to create traditional styles with the modern ability to create new trends.
And impeccable cuts, vibrant colors, and great deals can make your formal occasion more special. Recently designers have introduced many chic designs in different fabrics such as jacquard shirts, linen shirts, tailored shirts, and many more for special events.
Denim Shirts
Both men and women prefer to wear jeans material in their wardrobe. Men especially like to wear jeans shirts and pants.
So, many designers have designed jeans in the form of shirts which are usually worn as casual and semi-casual clothes. Denim shirts are the best for cool, comfortable, and sharp look.
Nowadays men's fashion shirts are available in both platforms online as well as offline markets. So, you can easily buy SS men's fashion clothes.
Mens Dress Shirts Mens Dress Shirts Mens Dress Shirts Mens Dress Shirts Mens Dress Shirts Mens Dress Shirts
Mens Dress Shirts Mens Dress Shirts Mens Dress Shirts Mens Dress Shirts Mens Dress Shirts Mens Dress Shirts
Mens Dress Shirts Mens Dress Shirts Mens Dress Shirts