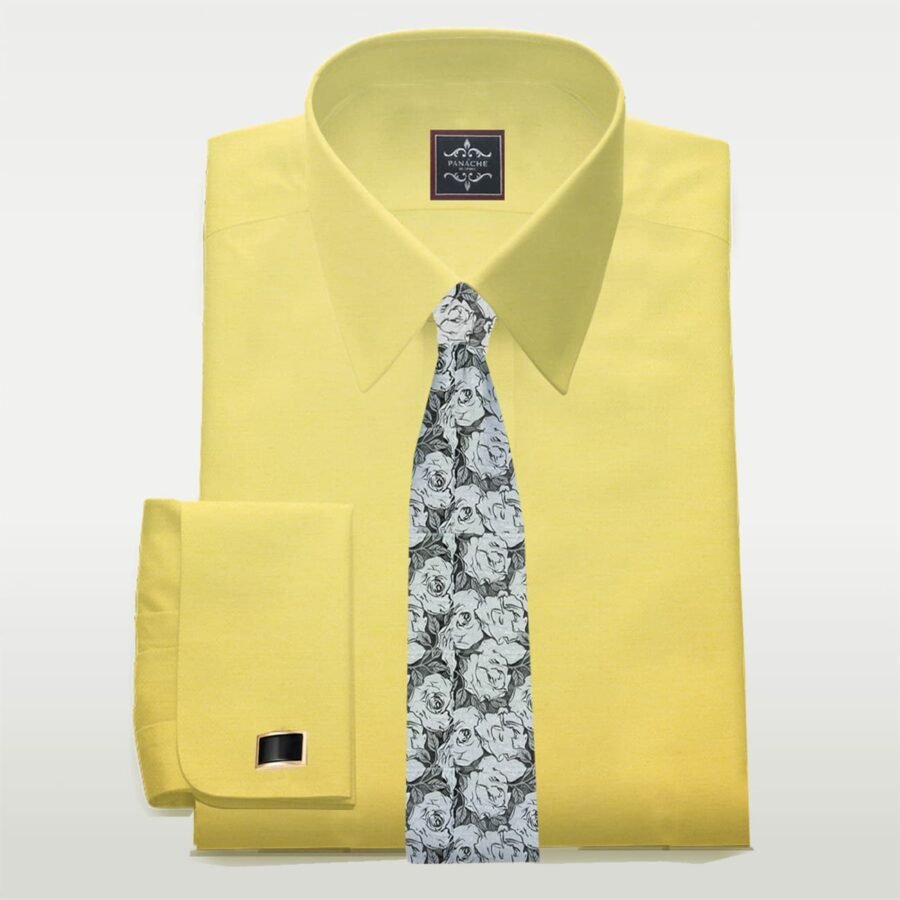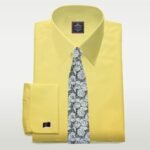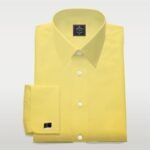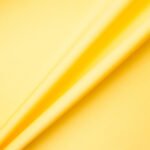 poplin yellow...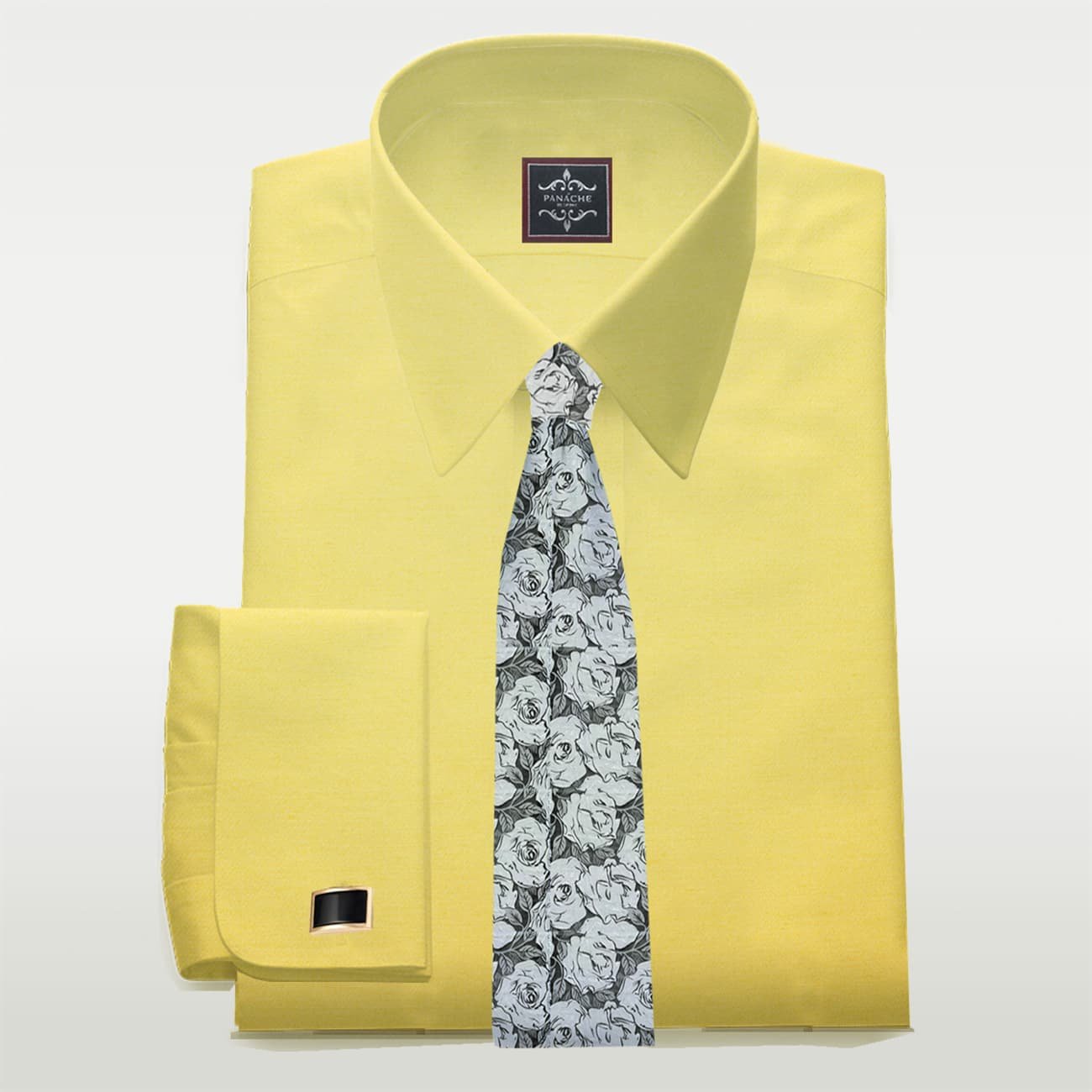 $69.95
Mens Dress Shirts Details
Collar shape: Medium Spread collar with 3″ width and collar stay is a very correct form of the collar that should always be worn with a tie.
With button placket.
either without a breast pocket or a breast pocket with a straight cover.
French round cuff and back smooth.
Regular fit.
Note: We offer custom made if our size chart is not suitable for your body. No extra charges for custom made shirts. Select choose an option and go to Body or Shirt Measurement and add your size.
Description
Additional information
Reviews (0)
Size Chart
Description
poplin yellow luxury dress shirt | Mens Shirts
poplin yellow luxury dress shirt | Mens Shirts in high-quality yellow poplin. Cornell has a tasteful and classic plain pattern. Which makes it a perfect bespoke dress shirt for upscale occasions as well as for more relaxed moments.
You are more likely to encounter yellow or gold accents within a busier pattern, such as plaid. Mens Dress Shirts
In a supporting role is where yellow truly shines, surrounded by blues, greys, and even reds. poplin yellow luxury dress shirt | Mens Shirts
Made to your measurements.
What is Poplin Fabric?
If you ever ask yourself about the meaning of 'what is light blue poplin shirt fabric. You're in the right place. You've probably, most definitely, worn some variation of poplin, whether it's 100% cotton poplin or a cotton-poly blend.
Whilst traditionally it was primarily used for commonplace attire, it now has a place both in your everyday wardrobe and Haute fashion.
Its popularity is hardly surprising, favorite for its strong, durable nature but soft, lustrous surface. It's basically a solid, all-rounder fabric that can't really do anyway. poplin yellow luxury dress shirt | Mens Shirts
Poplin yellow luxury dress shirt Lightweight and silky smooth. We specially developed this Miles broadcloth to get just the right balance between luxurious hand feel and incredible performance.
First, we started with getting just the right shade of blue–a soft, professional shade that can work in business settings or with a pair of jeans.
We love broadcloths like this because of how clean they look–it's a simple, dressy plain-weave with no texture whatsoever. Custom-fit shirts it that crisp, downtown appeal when ironed up or you can wear it more relaxed if you decide to let the wrinkles show.
FABRIC TECHNICAL DETAILS
Suggested Style:             Business and casual tailor-made shirts
Weave:                            Broadcloth/poplin
Composition:                   100% Egyptian Cotton
Thickness:                       Light Weight
Wrinkle Resistance:        3/5 Wrinkle Resistant
Shrinkage:                        Standard shrinkage allowances applied
Washing Description:
Wash in 40 degrees centigrade
Hang to dry on a hanger, 
Iron at medium heat
Do not tumble dry
poplin yellow luxury dress shirt | Mens Shirts
Mens Dress Shirts Mens custom Shirts Custom Made Shirts
Additional information
| | |
| --- | --- |
| Collar Size or Measurement | Body Measurement, Shirt Measurement, 14/32, 14/33, 14.5/32, 14.5/33, 15/32, 15/33, 15/34, 15/35, 15.5/32, 15.5/33, 15.5/34, 15.5/35, 15.5/36, 16/32, 16/33, 16/34, 16/35, 16/36, 16/37, 16.5/32, 16.5/33, 16.5/34, 16.5/35, 16.5/36, 16.5/37, 17/33, 17/35, 17/32, 17/36, 17/37, 17.5/33, 17.5/34, 17.5/35, 17.5/36, 17.5/37, 17.5/38, 17/34, 18/33, 18/34, 18/35, 18/36, 18/37, 18/38, 18.5/34, 18.5/35, 18.5/36, 18.5/37, 18.5/38, 19/35, 19/36, 19/37, 19/38, 19.5/35, 19.5/36, 19.5/37, 19.5/38, 20/36, 20/37, 20/38, 20.5/36, 20.5/37, 20.5/38, 21/37, 21/38, 22/38, 22/39, 22/40 |