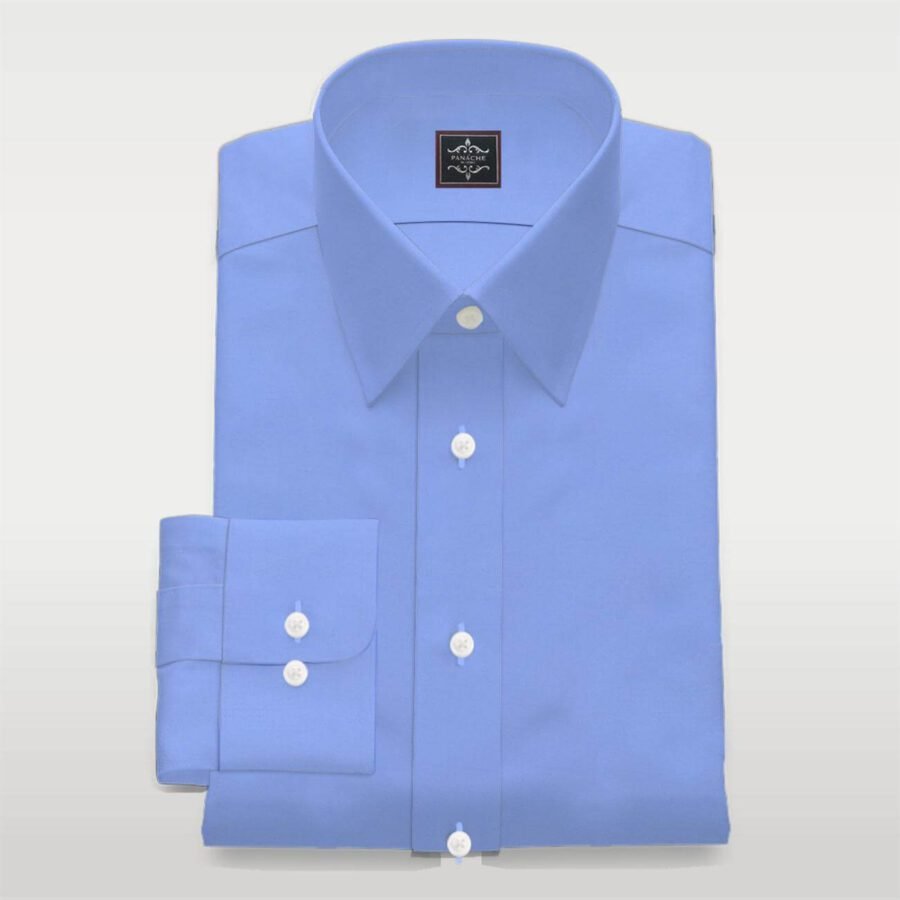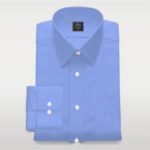 Custom Made...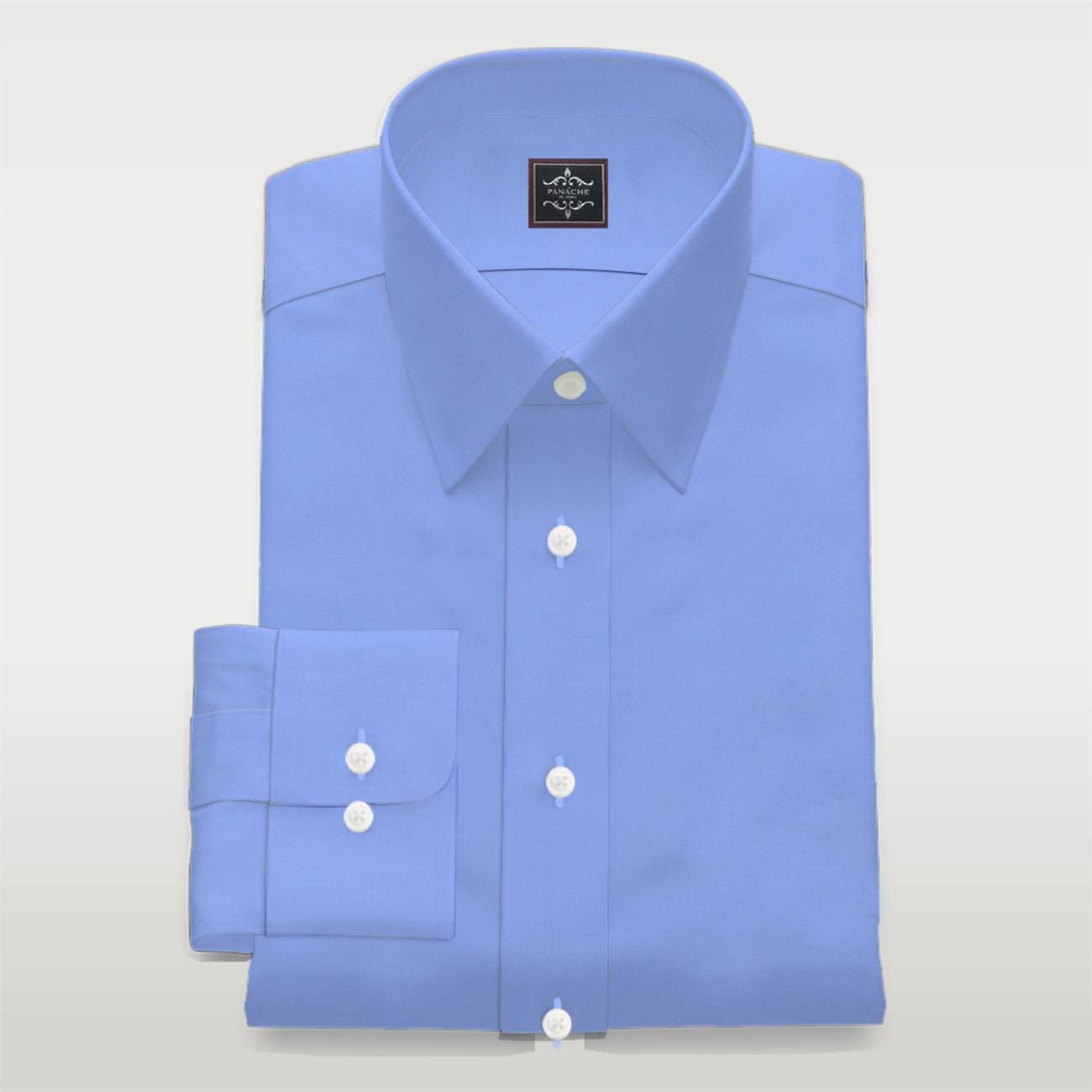 $89.00
Shirt Style – Collar – Medium Spread 3″ , Cuff – One Button Round Cuff, Front – Without Placket, Back – Smooth Back, Fitting – Regular Fitting
Note: We offer custom made if our size chart is not suitable for your body. No extra charges for custom made shirts. Select choose an option and go to Body or Shirt Measurement and add your size.
Description
Additional information
Reviews (1)
Size Chart
Description
Custom Made Shirts /  Light Blue
A Custom Made Shirts is a cloth garment for the upper body (from the neck to the waist).
Tailor-made & Custom Made Shirts  (MTM) generally refers to custom clothing that is cut and sewn using a basic pattern of standard size. Sports suits and coats are the most common custom clothing. The fit of a custom garment should be greater than that of a ready-to-wear garment. Therefore' custom garments are constructed to fit each client individually based on a few body measurements to customize the model existing.
Tailor-made clothing always involves some form of standardization in design and manufacturing, while tailor-made tailoring is entirely makes from scratch according to customer specifications with much more attention to the details of fine fitting and using multiple fittings during the construction process.
All other things being equal, a custom garment will be more expensive than a ready-to-wear garment but less expensive than a custom garment. "Custom-made" most often refers to MTM. The country of origin makes a difference in prices, with MTM clothing makes in China whose price is generally lower than that of ready-to-wear made in Italy.
Broadcloth
Broadcloth is a weave fabric that is light and incredibly versatile. With a similar resemblance to poplin, the sheet is available in 100% cotton or in poly cotton blend. So there are endless possibilities in terms of uses. We offer Robert Kaufman Kona cotton which is the best option when you want a quality 100% cotton fabric.
The wide sheet is only available in solid colors, but its weight is quite similar to that of quilted cotton prints to be interchangeable in most situations.
Broadcloth is available in a variety of colors to suit most projects you have in mind and some colors are available in extra wide widths of 57 inches for larger projects. It has a nice drape and very little stretch in all directions.
Light blue 100% Pima cotton sheet. … Pima is consider one of the best grades of cotton available. In addition to being a wide sheet (which is a dense and fine fabric normally compose of wool or cotton), this cotton is both combed and mercerize for more luster and richness.
Need the perfect fabric for high-end shirt applications? Here is a 100% pima cotton sheet with a fabulous hand and an amazing drape, soft and supple. Therefore' pima is consider one of the best grades of cotton available.
Size
Originally an undergarment worn exclusively by men, it has become, in American English, a catch-all term for a broad variety of upper-body garments and undergarments. In British English, a shirt is more specifically a garment with a collar, sleeves with cuffs, and a full vertical opening with buttons or snaps (North Americans would call that a "dress shirt", a specific type of collared shirt). A shirt can also be worn with these sizez.
Asian Size M = US/EU Size XS.
Asia Size L = US/EU Size S.
Asian Size XL = US/EU Size M.
Asia Size XXL = US/EU Size L.
Asian Size XXXL = US/EU Size XL.
Asia Size XXXXL = US/EU Size XXL.
FABRIC TECHNICAL DETAILS
Suggested Style:             Business and casual
Weave:                            Broadcloth
Composition:                   100% Egyptian Cotton
Thickness:                       Medium light Weight
Wrinkle Resistance:        3/5 Wrinkle Resistant
Shrinkage:                        Standard shrinkage allowances applied
Washing Description:
Wash in 40 degrees centigrade
Hang to dry on a hanger, do not tumble dry
Iron at medium heat
Do not tumble dry
Additional information
| | |
| --- | --- |
| Collar Size or Measurement | Body Measurement, Shirt Measurement, 14/32, 14/33, 14.5/32, 14.5/33, 15/32, 15/33, 15/34, 15/35, 15.5/32, 15.5/33, 15.5/34, 15.5/35, 15.5/36, 16/32, 16/33, 16/34, 16/35, 16/36, 16/37, 16.5/32, 16.5/33, 16.5/34, 16.5/35, 16.5/36, 16.5/37, 17/33, 17/35, 17/32, 17/36, 17/37, 17.5/33, 17.5/34, 17.5/35, 17.5/36, 17.5/37, 17.5/38, 17/34, 18/33, 18/34, 18/35, 18/36, 18/37, 18/38, 18.5/34, 18.5/35, 18.5/36, 18.5/37, 18.5/38, 19/35, 19/36, 19/37, 19/38, 19.5/35, 19.5/36, 19.5/37, 19.5/38, 20/36, 20/37, 20/38, 20.5/36, 20.5/37, 20.5/38, 21/37, 21/38, 22/38, 22/39, 22/40 |