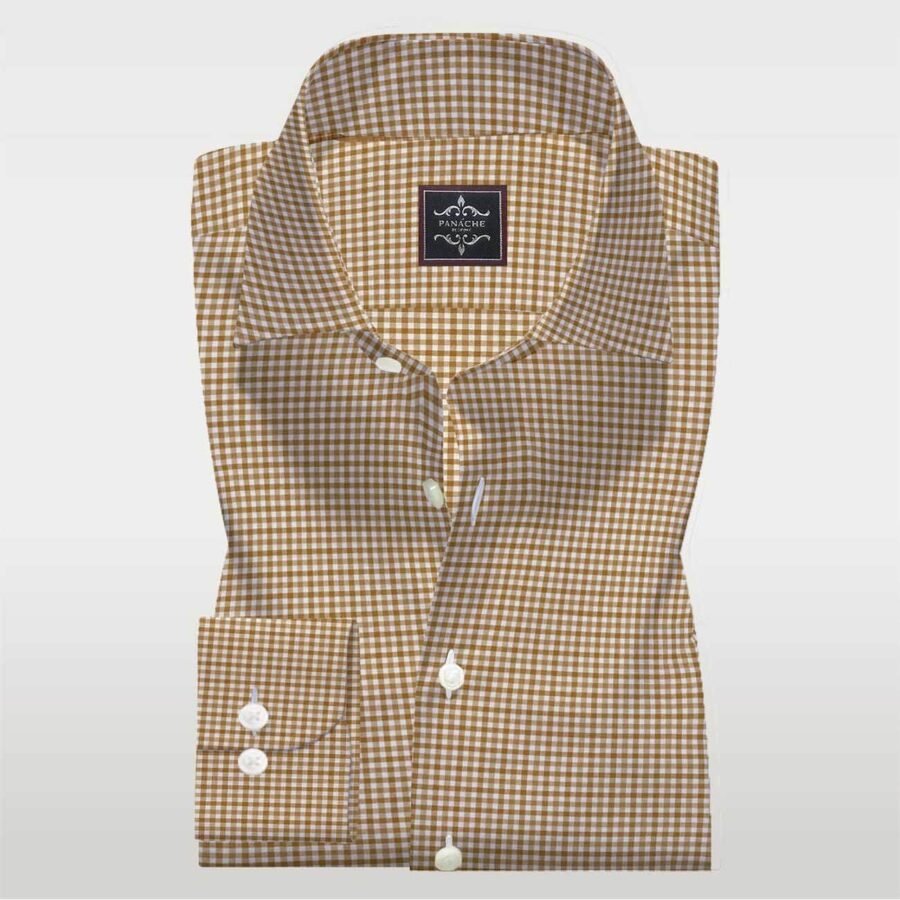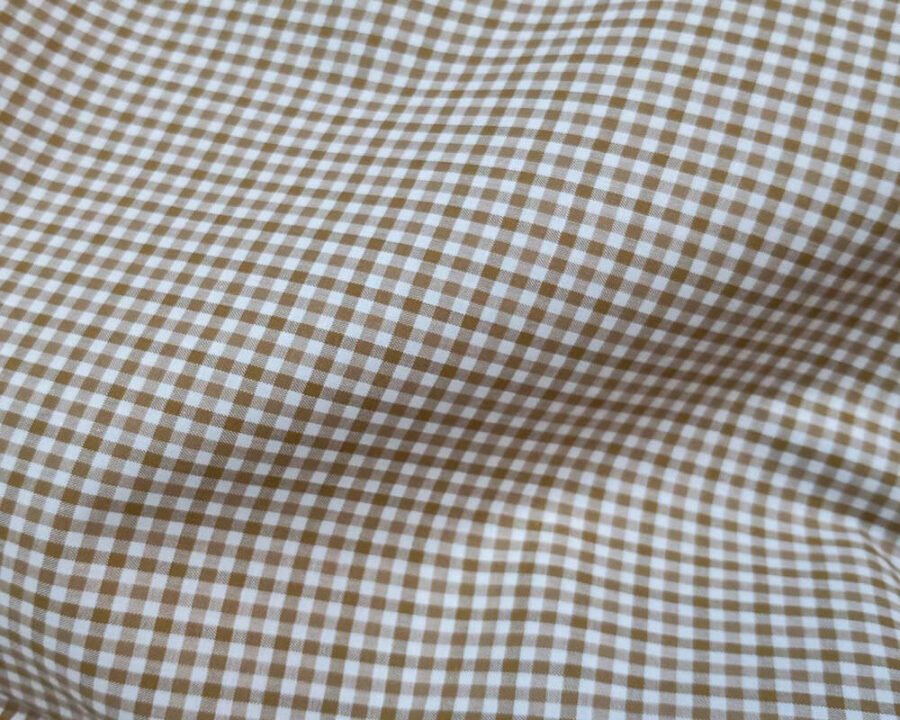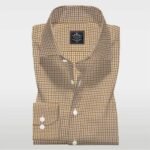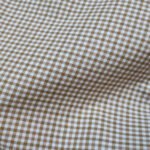 Brown Gingham...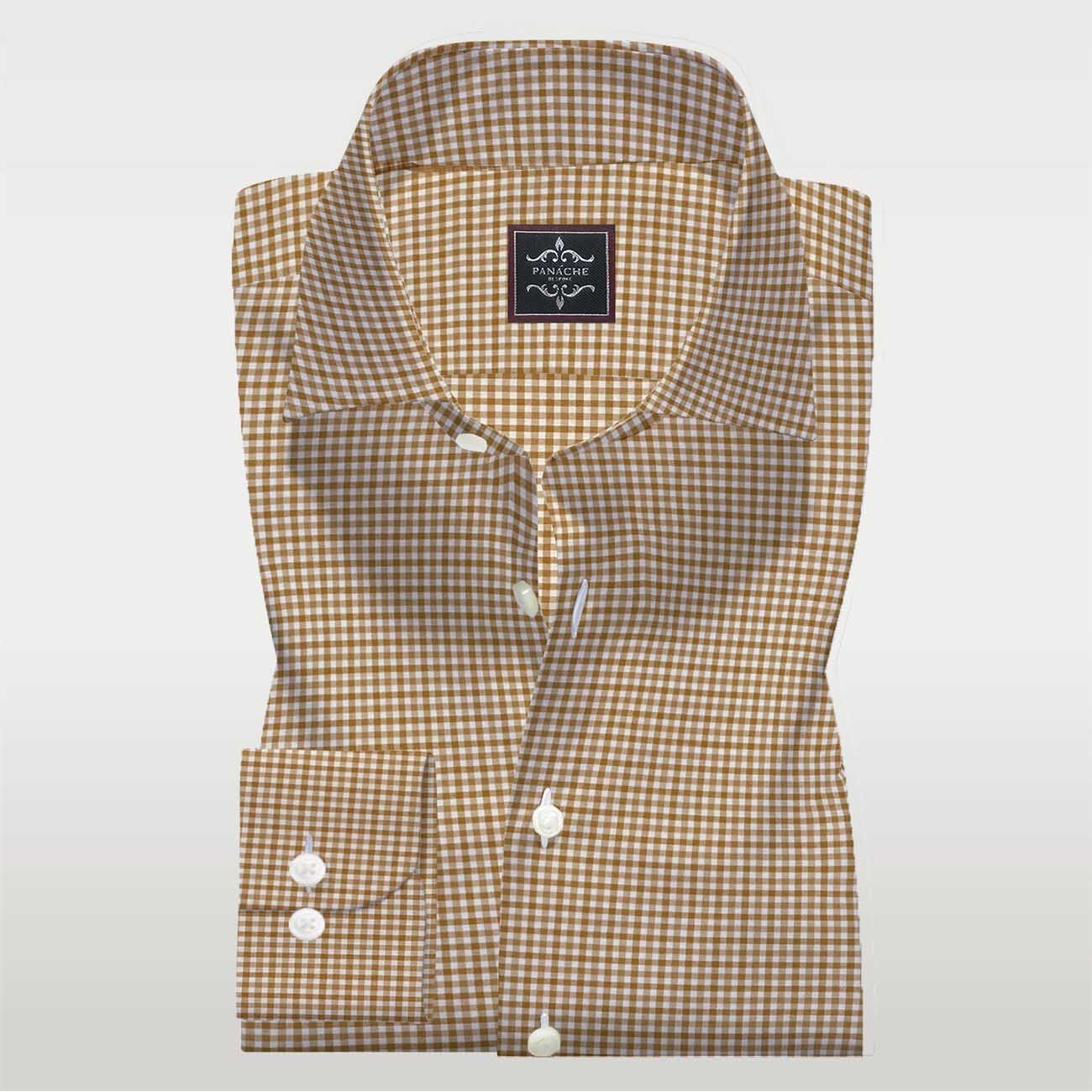 $89.95
Mens Dress Shirts Detail
Brown Gingham mens shirt
Collar shape: Wide Spread collar with 3″ width and collar stay is a very correct form of the collar in business shirts.
Without button placket
No pocket if you required pocket mentions in the comment section.
One Round cuff and back smooth
Regular fit
Note about Royal Oxford Blue Shirt : We offer custom made if our size chart is not suitable for your body. No extra charges for custom made shirts. Select choose an option and go to Body or Shirt Measurement and add your size.
If you need any changes in the collar, cuff, or any more. Write-in the description section on the checkout page.
If you need initial write in order description (initial words like maximum 5 words) initial color and position without extra charges. Gingham shirt Check shirt  Brown Gingham mens shirt
Description
Additional information
Reviews (1)
Size Chart
Description
Brown Gingham Mens Shirt
Brown Gingham Men's Shirt. This men's dress shirt is made of a delicate and rich brown gingham from Thomas Mason, a popular industrial facility in Italy.   Multi Gingham Dress Shirt
The outstanding 80's 2 used broadcloth is an exceptional loose combination of premium Italian custom. Men's Check Shirt
Subtle wrapping, subtle elegance, and breathability make this shirt dynamic and simple to wear while maintaining the ideal harmony of mid-range earth tones and white check shirts.
Brown Gingham Mens Shirt
It looks extraordinary with open collar shaving cotton pants or navy, dark or dingy formal wear.
This shirt is perfect for individuals who would prefer not to give up the look and feel of cotton, but still need somewhat more from their regular shirt. Gingham Shirts
The broadcloth weave has a slight sheen to it, giving it a sharp look to match formal attire.
Its medium weight makes it ideal for year-round wear, and it has a fairly dark texture with good window hanging.
Brown Gingham Men's Shirt
It needs a lot of basic pressing, however, the light enemy of wrinkle treatment will keep the texture fresh and proficient throughout the day.
Regardless of whether you need a custom earthy colored dress shirt.
It looks nice with just one white shirt for work or an occasional event, Hudson is certainly justified, despite any troubles.
It is undoubtedly a shading that is widespread in the English language.
Wrinkle-safe is the ideal texture for the occasion.
Luxurious Dress Shirts for Men
Brown gingham shirts are regularly more spare (thicker) and less straightforward than comparative quality sheets. 
There is no competition for luxury men's dress shirts in this market.
Luxury dress shirts for men have excellent texture and fine sewing. Earth Color Gingham Mens Shirts
When is the right time to start wearing twill?
Twill is an old-fashioned plain weave texture. The yarns are tightly bound together, giving it a firm and thick texture.
Brown Gingham Mens Shirt
Therefore broadcloth is wrinkle-resistant fabric. Speedy drying with steam or low temperature will make the twill wrinkle less noticeable. 100% cotton twill.
Its varieties (denim, chino, coat) can be machine washed. This customized, luxurious white shirt can be consequently pressed and dried in a short time.
We offer
In this way, if our size graph is sometimes insufficient for your body, we offer customized administrations. There is no extra charge for customized shirts.
Choose an alternative, go to Body or Shirt Quote, and add your size.
The texture of twill is effectively unmistakable as it shows a diagonal surface or surfaces.
The impact from corner to corner can vary from a very fine, unobtrusive twill to a much larger supreme or ranger twill.
The special delicacy of textures.
Suggested styles.             Business and casual shirts.
Weave:                              Broadcloth.
Material Composition.   100% cotton.
Thickness.                        Medium-light weight
Wrinkle resistant.           4/5 Wrinkle resistant
Shrinkage.                       Standard shrinkage rates apply.
Wash at 40℃.
Hold holder tightly to dry.
Iron at medium temperature
Gingham shirt Checked  shirt Brown Gingham mens shirt  Brown Gingham mens shirt
Additional information
| | |
| --- | --- |
| Shirt Fitting | Slim Fit, Regular Fit, Loose Fit |
| Collar Size or Measurement | Body Measurement, Shirt Measurement, 14/32, 14/33, 14.5/32, 14.5/33, 15/32, 15/33, 15/34, 15/35, 15.5/32, 15.5/33, 15.5/34, 15.5/35, 15.5/36, 16/32, 16/33, 16/34, 16/35, 16/36, 16/37, 16.5/32, 16.5/33, 16.5/34, 16.5/35, 16.5/36, 16.5/37, 17/33, 17/35, 17/32, 17/36, 17/37, 17.5/33, 17.5/34, 17.5/35, 17.5/36, 17.5/37, 17.5/38, 17/34, 18/33, 18/34, 18/35, 18/36, 18/37, 18/38, 18.5/34, 18.5/35, 18.5/36, 18.5/37, 18.5/38, 19/35, 19/36, 19/37, 19/38, 19.5/35, 19.5/36, 19.5/37, 19.5/38, 20/36, 20/37, 20/38, 20.5/36, 20.5/37, 20.5/38, 21/37, 21/38, 22/38, 22/39, 22/40 |