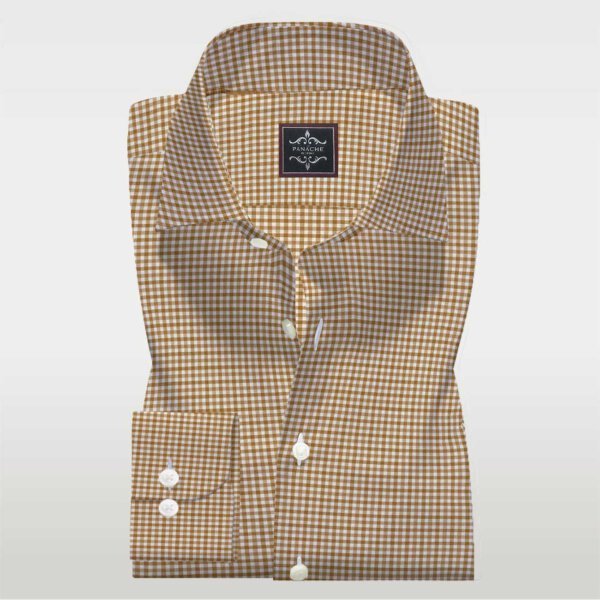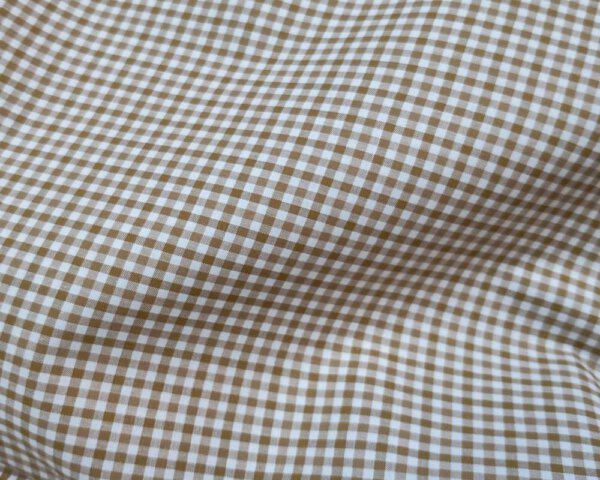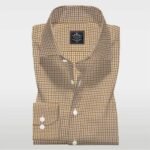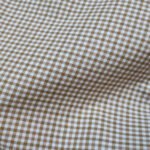 Brown Gingham...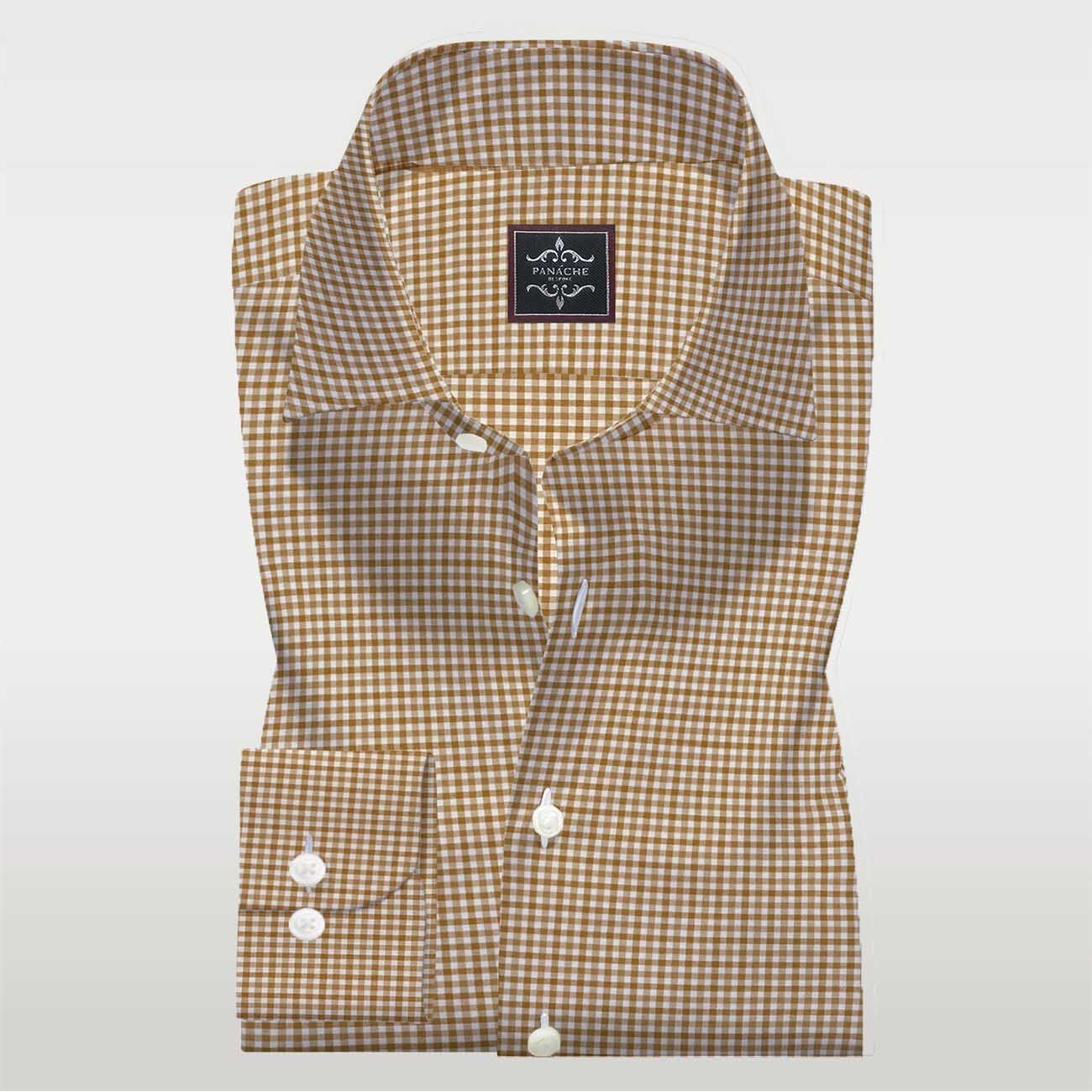 $89.95
Mens Dress Shirts Detail
Brown Gingham mens shirt
Collar shape: Wide Spread collar with 3″ width and collar stay is a very correct form of the collar in business shirts.
Without button placket
No pocket if you required pocket mentions in the comment section.
One Round cuff and back smooth
Regular fit
Note about Royal Oxford Blue Shirt : We offer custom made if our size chart is not suitable for your body. No extra charges for custom made shirts. Select choose an option and go to Body or Shirt Measurement and add your size.
If you need any changes in the collar, cuff, or any more. Write-in the description section on the checkout page.
If you need initial write in order description (initial words like maximum 5 words) initial color and position without extra charges.
Description
Additional information
Reviews (1)
Size Chart
Description
Brown Gingham mens shirt
Brown Gingham mens shirt.The men's dress shirts are soft and luxurious brown gingham from the famous Italian factory Thomas Mason.
This beautiful 80s 2-ply broadcloth combines premium Italian tradition with a relaxed, very relaxed look. Mens check shirts
Its soft drape, lightness, and breathability make it a dynamic and versatile choice for dressing up and down, keeping the perfect balance between the mid-range brown and white check pattern.
Brown Gingham mens shirt
It looks great whether you wear it in open colored shaved cotton pants or in a navy, black and grey suit and tie.
The perfect shirt for those who don't want to sacrifice the look and feel of cotton, but want to give it a little more of their shirt for everyday wear. 
The Broadcloth weave is a little bit shiny making it a very sharp fabric to combine with suits and ties.
Medium weight, perfect for year-round wear, heavy enough to drape very well and make it quite opaque.
Brown Gingham mens shirt
It requires easy ironing and pressing, but a light anti-wrinkle treatment keeps the fabric crisp and professional all day. 
Whether you need a custom brown dress shirt to look good at work or just one white shirt for a special occasion, Hudson is definitely worth it. It's definitely a prevalent color in English.
Wrinkle-resistant is the perfect fabric for the holidays.
Luxury dress shirts for men
Brownshirts is often more substantial (thicker) and less transparent than a sheet of similar quality. Our competitors in Luxury Men's Dress Shirts are not in this market.
Luxury dress shirts for men have high-quality fabric or very fine stitching. Brown Gingham mens shirt
When should I wear twill?
Twill is a plain weave fabric that dates back to Antiquity. The threads wrap very tightly together resulting in that strong, thick fabric you know.
Brown Gingham mens shirt
Therefore, 'Broadcloth does not crease easily. Quick-drying with steam or low heat is often enough to smooth out creases on twill garments. 100% cotton twill.
Its variants (denim, chino, gabardine) are easy to clean and machine washable. So this tailored luxury white shirt is easy to iron and dry in minutes.
We offer
We, therefore, offer tailor-made if our size chart does not fit your body. No additional costs for tailored shirts.
Select choose an option and go to the body or shirt measurement and add your size.
Twill fabrics are easily recognizable as they will show a diagonal texture or texture.
The diagonal effect can range from very fine, subtle twills to much larger imperial or cavalry twills.
FABRIC TECHNICAL DETAILS
Suggested Style:             Business and casual shirts
Weave:                               Broadcloth
Composition:                   100%  cotton
Thickness:                       Medium-light Weight
Wrinkle Resistance:        4/5 Wrinkle Resistant
Shrinkage:                        Standard shrinkage allowances applied
WASHING DESCRIPTION:
Wash in 40 degrees centigrade
Hang to dry on a hanger
Iron at medium heat
Royal Oxford Blue Shirt
Additional information
| | |
| --- | --- |
| Shirt Fitting | Slim Fit, Regular Fit, Loose Fit |
| Collar Size or Measurement | 14.5/32, 14.5/33, 14/32, 14/33, 15.5/32, 15.5/33, 15.5/34, 15.5/35, 15.5/36, 15/32, 15/33, 15/34, 15/35, 16.5/32, 16.5/33, 16.5/34, 16.5/35, 16.5/36, 16.5/37, 16/32, 16/33, 16/34, 16/35, 16/36, 16/37, 17.5/33, 17.5/34, 17.5/35, 17.5/36, 17.5/37, 17.5/38, 17/32, 17/33, 17/34, 17/35, 17/36, 17/37, 18.5/34, 18.5/35, 18.5/36, 18.5/37, 18.5/38, 18/33, 18/34, 18/35, 18/36, 18/37, 18/38, 19.5/35, 19.5/36, 19.5/37, 19.5/38, 19/35, 19/36, 19/37, 19/38, 20.5/36, 20.5/37, 20.5/38, 20/36, 20/37, 20/38, 21/37, 21/38, 22/38, 22/39, 22/40, Body Measurement, Shirt Measurement |