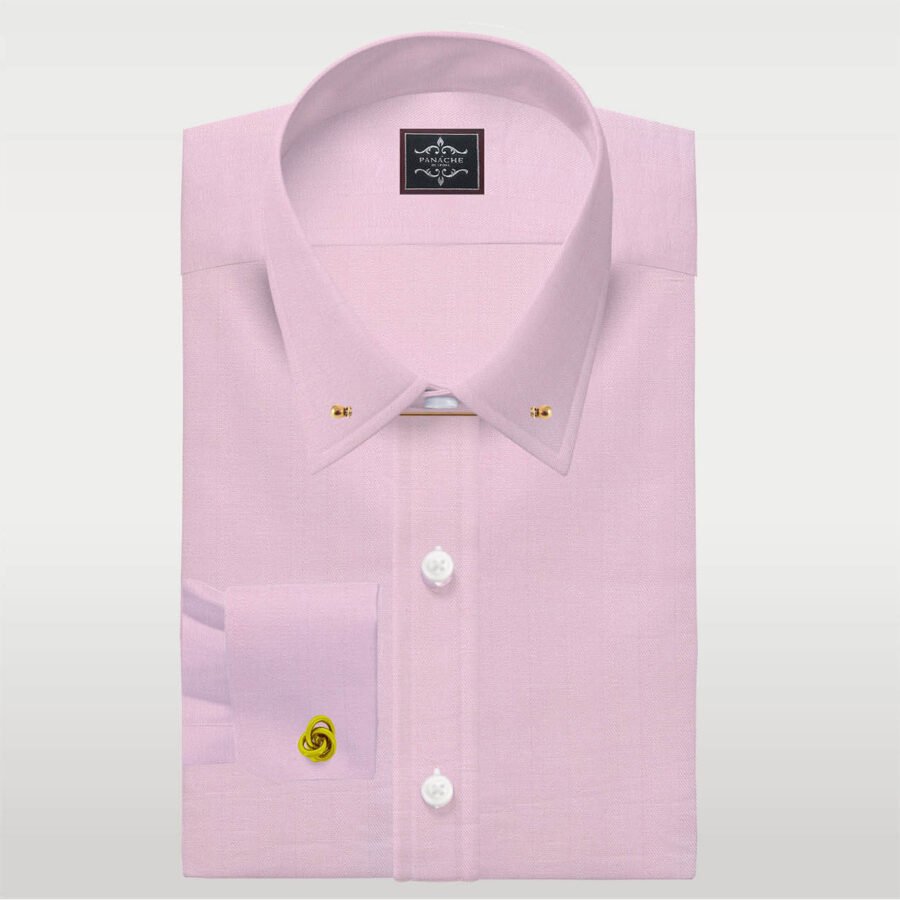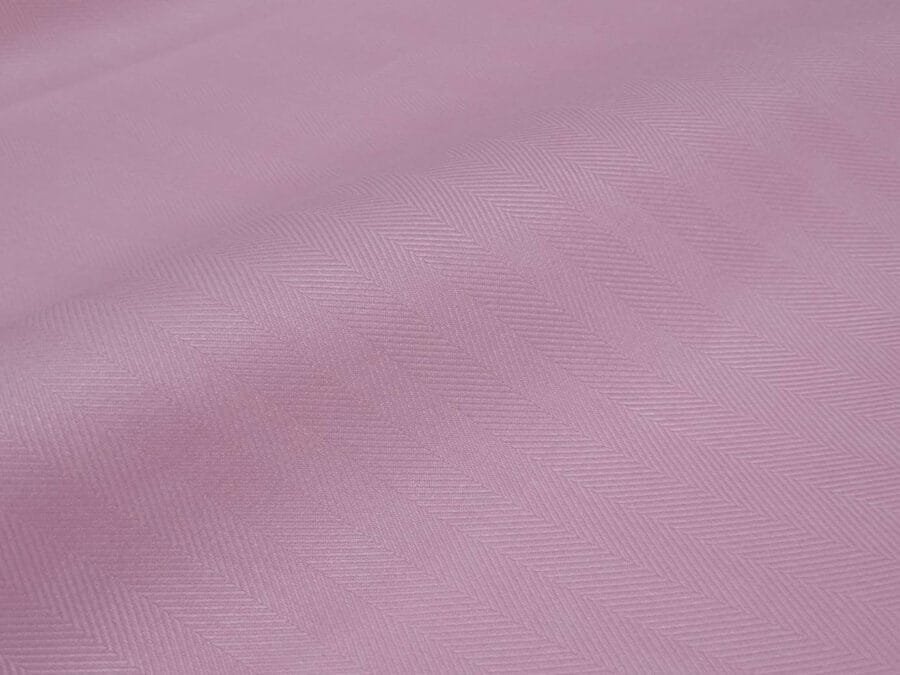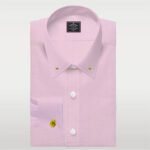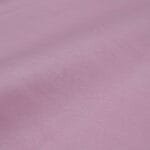 Pink Pin Collar...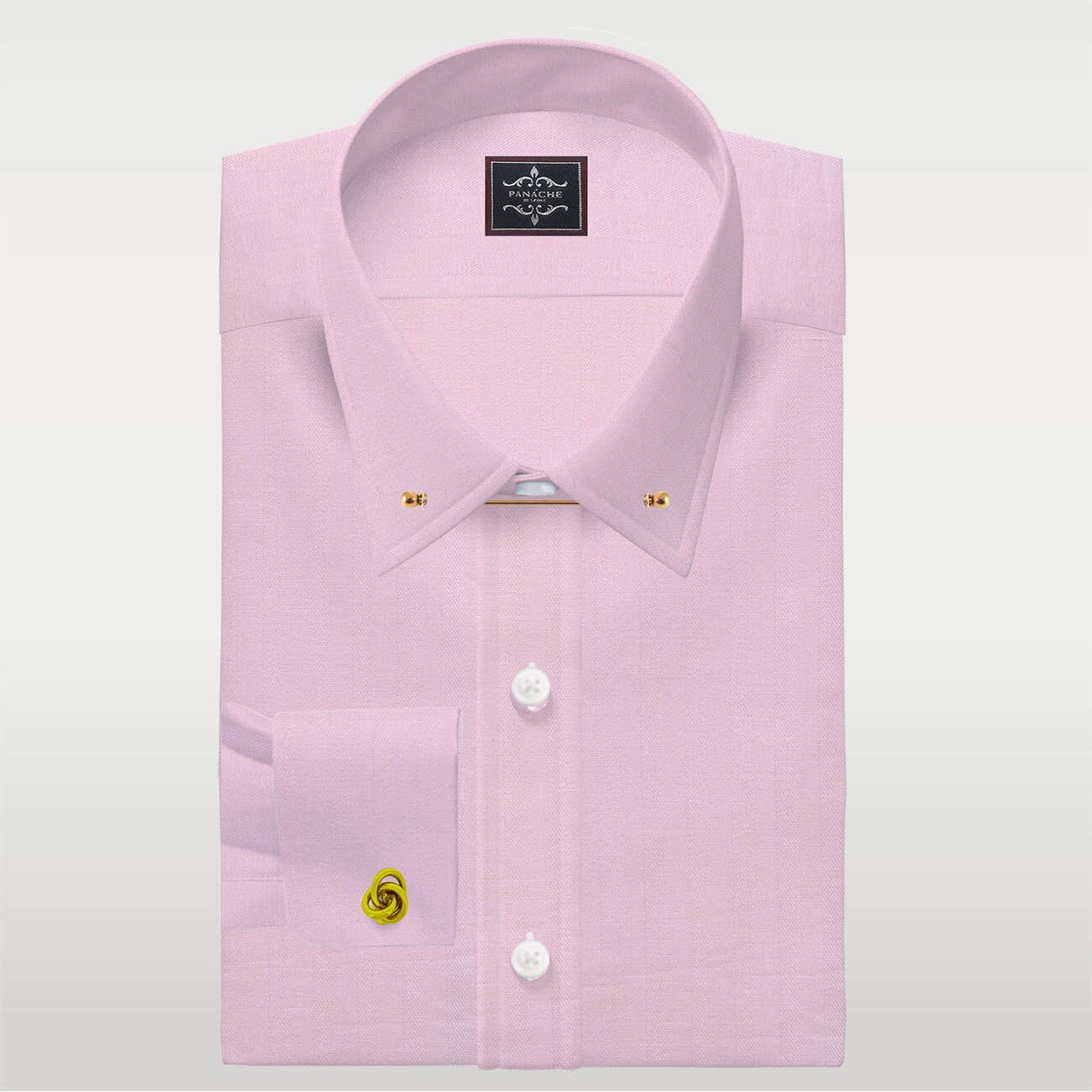 Pink Pin Collar...
$64.95 – $89.95
$64.95 – $89.95
Mens Dress Shirts Detail

Pink Pin Collar shirt | Mens pink dress shirt | men's pink dress shirt | pink dress shirt mens

Collar shape: Pink Pin collar with a 3″ width pin is a very correct form of the collar in business shirts.
With button placket
No pocket if you required pocket mentions in the comment section.
French Round cuff and back smooth
Note: We offer custom-made if our size chart is not suitable for your body. No extra charges for custom-made shirts. Select choose an option and go to Body or Shirt Measurement and add your size.
If you need any changes in the collar, cuff, or any more. Write in the description section on the checkout page.
If you need an initial write in order description (initial words like maximum 5 words) initial color and position without extra charges.

Pink Pin Collar shirt | Mens pink dress shirt | men's pink dress shirt | pink dress shirt mens
Description
Additional information
Reviews (0)
Size Chart
Description
Pink Pin Collar shirt | Mens pink dress shirt | men's pink dress shirt | pink dress shirt mens | Pink Dress shirt | Men's Dress shirts
Pink Pin Collar shirt | Mens pink dress shirt | men's pink dress shirt | pink dress shirt mens is acceptable for the workplace yet additionally to grant functions and business meals. It is made from gently finished cotton, with two-fold lapels and a collar bar that pushes the tie forward for an exquisite look. Pink Dress shirt | Shirt Men's Dress shirts.
An elegant-looking men's oxford pin collar shirt with numerous customization choices. This evening shirt has a gap within the collar and an in-depth neckline with a neckline pin bar.
Pink Pin Collar shirt  | Mens pink dress shirt | men's pink dress shirt | pink dress shirt mens
Rich and useful, the spiked neckline shirt is one among the various styles offered for men. the elemental explanation behind the eyelet bar is twofold: the very first thing, the pin unites the collar tabs, making it stand-out and an alluring look.
Furthermore, the pin underpins the bunch of the tie, making the tie stand apart more.
It is consistently a sensible thought to wear a collar pin and tie. Additionally, you need to never wear a neckline pin shirt without a tie. It sounds ludicrous.
Men's Dress shirts
This shirt is formed with a herringbone surface and features a fragile pin neck area. this is often perhaps the foremost adaptable style. it's ageless and may be worn with anything from a swimsuit to an unlined suit in a complicated office.
Herringbone texture is incredibly tough, yet its surface is flawlessly delicate and exceptionally custom-fitted, making it an unquestionable requirement have for any vivid closet.
Men's Dress Shirts
An immortal sort of men's evening shirt, the pink herringbone is formed of premium Supima cotton texture for problem-free consideration. The surface of the herringbone radiates through this shirt, particularly in its whitish tone.
The solid 80's 2Ply development gives a medium load to throughout the season comfort.
It wraps all around ok while staying breathable.
Premium American Supima cotton is employed to feature uncommon non-abrasiveness and strength while improving feel and execution.
Pink Pin Collar Shirt
Gotten through with an ingenious sans formaldehyde treatment to stay your skin agreeable and sans wrinkle throughout the day.
This makes it simple to actually specialize in. It alright could also be worn straightforwardly from the washer and dryer or immediately squeezed for an unbelievably perfect and expert look.
Herringbone features a better weave than thicker twill textures. Along these lines, it tends to be utilized under formal attire, however, looks much better once you specialize in it after work.
Herringbone is somewhat dressier and more extensive than twill, so it's quite feathery while so far being rich.
Pink pin neckline shirts
In the event that you simply need your synchronized bind to tug in additional consideration, wearing a captured shirt is one approach to accomplish a robust look.
Consider nabbed pins as sleeve fasteners that are available gold or silver complete, the precise completion you opt to supplement your outfit.
Presently, you would possibly be pondering which metal completion goes with which outfit.
Truth be told, it relies altogether upon your own style, which you'll acclimatize and refine over the end of the day with exertion.
Specialized subtleties of the texture.
Proposed style.               Business
Weave:                           Herringbone
Material Composition.    100% Egyptian cotton.
Thickness.                        Medium-light weight
Wrinkle safe                      4/5 Wrinkle safe
Shrinkage.                        Standard shrinkage rates apply.
Wash at 40°C (104°F).
Machine launderable.
Hold tight a holder to dry.
Iron on medium warmth.
Pink Pin Collar shirt | Mens pink dress shirt | men's pink dress shirt | pink dress shirt mens
How to wear a collar pin men's dress shirts
Every so often, I'm reminded that although I'm a clothing professional, there are still things on my behalf for me to find out. Case in point: sometime in 2017 I began to notice Tom Ford wearing a metallic-looking bar on his shirt collar than ran under his necktie.
I remembered seeing Daniel Craig as Bond wear an equivalent accessory in a number of his recent films. Known to me now, this tiny accessory is named a collar bar. So, exactly what's a collar bar, or a collar pin or clip, for that matter?
Men's Dress shirts
When I was growing up, I own a few dress shirts that had a little tab extruding from all sides of the shirt collar. one among the 2 tabs had a button and therefore the general idea was to button the tabs together after I had tied my tie. The result was a rather arch and elevate knot. I remember thinking that it had been a reasonably cool look.
I now know that this specific collar is named a tab collar. Today, the tab collar is extremely rare. But it's going for much an equivalent effect because of the collar bar, or the close cousins: the collar pin and therefore the collar clip. We'll get to those during a moment.
But how did all this begin? Why did men feel the necessity to lift their necktie and tighten their collar up in the first place?
Some background
To the simplest of my knowledge, it had been sometime within the early 20th century that the collar bar made its introduction. Back then, shirt collars were large and a touch unruly and has a bent to maneuver around a touch. Therefore, a collar bar was invented to try to do two things:
Bring the 2 ends of your shirt collar together
And elevate the knot
Basically, it just keeps everything together. One less thing to stress about, right?
Although the collar bar and its variants are within the game a few times now, their popularity has come and gone over the years. They've always been a method accessory reserved for the sartorially inclined gentleman.
While they have a tendency to form an appearance in popular culture every now and again (e.g. Bond, Gordon Gecko, etc.), they need never quite been what I might call mainstream. After all, a collar bar isn't casual, nor can it's.
The act of tightening the shirt collar and necktie together is one among formality and a spotlight to detail. So, if you're getting to wear one among these, confirm that the remainder of your wardrobe is equally in restraint.
Pink Pin Collar shirt | Mens pink dress shirt | men's pink dress shirt | pink dress shirt mens
Have a handle on history? Good. I actually believe that by understanding where our menswear traditions come from, we're better suite to use them today. That being says, let's take an in-depth check out each of the three collar accessories: the collar bar, the collar pin, and therefore the collar clip.
Collar bar shirt
The collar bar is what I might call the foremost austere looking of the three. it'll likely carry the foremost visual weight thanks to the top pieces on the bar. These are often hexagonal or little cubes. It's no wonder that the collar bar is usually mention as a touch barbell.
You screw off one end of the bar, feed it through actual holes in your shirt collar (yes, you'll need a selected sort of shirt) designed for this purpose. Then you screw on the top cap and you're good to travel.
Pros: Easy to wear because the feed-thru holes on your shirt guarantee proper placement and you are doing need to poke a hole in your nice shirt as you do with the collar pin.
Cons: You'll need a selected evening shirt to wear with a collar bar and you won't want to wear this shirt without a necktie and bar.
Collar bar shirt
An alternative to the collar bar is that the collar pin, and it's a touch sort of a large pin. faithful its name, it'll actually puncture your shirt collar. Therefore, after tying your necktie, you'll get to choose an honest spot on either side of the collar to pin through. This isn't too complicate goodbye as you finish up with A level looking pin.
The more rounded nature of the collar pin makes for a rather less dressy aesthetic than the collar bar.
Pink Pin Collar shirt | Mens pink dress shirt | men's pink dress shirt | pink dress shirt mens
If you're worried about poking holes in your favorite shirts, there's an honest chance that after laundering the shirt, these small holes will not be noticeable. However, after repeated wearings, I do feel that the collar pin will degrade your shirt collar, so it's something to stay an eye fixed on.
Here's what your shirt may appear as if after laundering:
Pink Pin Collar shirt | Mens pink dress shirt | men's pink dress shirt | Pink Pin Collar shirt | Mens pink dress shirt | men's pink dress shirt | pink dress shirt mens
From a purely economic perspective, it really comes right down to how often you think that you'll be wearing a collar pin. If you wish the design and you're wearing it several days every week, then it's going to be time to take a position during a shirt with pre-formed holes and use a collar bar shirt.
Pros: you'll wear a collar pin on any evening shirt.
Cons: You're physically puncturing your shirt collar and over time, this may degrade the material.
Pink Pin Collar shirt | Mens pink dress shirt | men's pink dress shirt | pink dress shirt mens
Pink Pin Collar shirt | Mens pink dress shirt | men's pink dress shirt | pink dress shirt mens
Additional information
| | |
| --- | --- |
| Shirt Fitting | Slim Fit, Regular Fit, Loose Fit |
| Collar Size or Measurement | Body Measurement, Shirt Measurement, 14/32, 14/33, 14.5/32, 14.5/33, 15/32, 15/33, 15/34, 15/35, 15.5/32, 15.5/33, 15.5/34, 15.5/35, 15.5/36, 16/32, 16/33, 16/34, 16/35, 16/36, 16/37, 16.5/32, 16.5/33, 16.5/34, 16.5/35, 16.5/36, 16.5/37, 17/33, 17/35, 17/32, 17/36, 17/37, 17.5/33, 17.5/34, 17.5/35, 17.5/36, 17.5/37, 17.5/38, 17/34, 18/33, 18/34, 18/35, 18/36, 18/37, 18/38, 18.5/34, 18.5/35, 18.5/36, 18.5/37, 18.5/38, 19/35, 19/36, 19/37, 19/38, 19.5/35, 19.5/36, 19.5/37, 19.5/38, 20/36, 20/37, 20/38, 20.5/36, 20.5/37, 20.5/38, 21/37, 21/38, 22/38, 22/39, 22/40 |
View Size Chart
All Sizes in Inches and Its in Finish Round Size!
           For More Detail Click Here