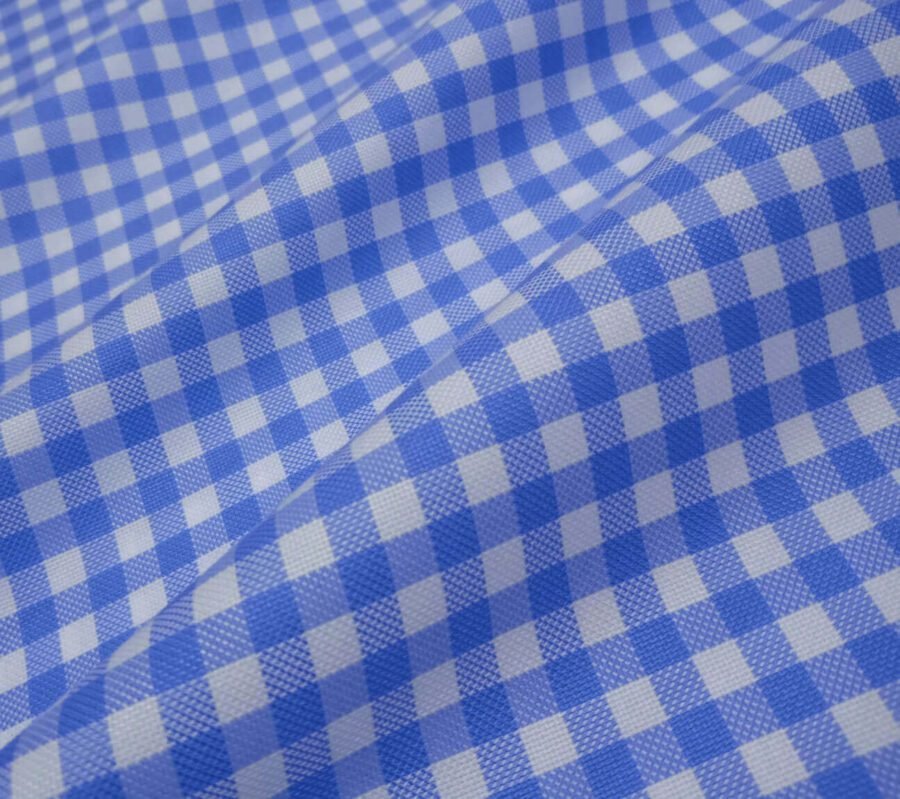 Blue and White...
$49.99
Mens Dress Shirts Detail
Collar shape: Wide Spread collar with 3″ width and collar stay is a very correct form of the collar in business and casual shirts.
Without button placket
No pocket if you required pocket mentions in the comment section.
One Button Round cuff and back smooth
Regular fit
Note: We offer custom made if our size chart is not suitable for your body. No extra charges for custom made shirts. Select choose an option and go to Body or Shirt Measurement and add your size.
Description
Additional information
Reviews (0)
Size Chart
Description
Blue and White Check Royal Oxford Fabric / Casual And Formal
Blue and White Check Royal oxford Mens dress shirt texture and a bit more pop than the one with traditional broadcloth or a pinpoint. This fabric is woven by the famous Thomas Mason Mill in Italy with a 2-ply construction. Mens Dress shirts
The open oxford fabric has a comfortable and breathable body, a clean curtain, and a perfect weight for four-season wear.
Despite popular belief, the Oxford fabric is not from Oxford. But rather from a textile factory in Scotland in the latter part of the 19th century. Blue and White Check Royal Oxford
Apparently, in a clever marketing maneuver, the factory created four different fabrics named. After four of the most prestigious universities of the time – Yale, Cambridge, Harvard, and Oxford.
Today, little is knows about what happened to the other three fabrics, but it is clearly the Oxford fabric that has proved to be the big winner.
Royal Oxford Fabric
Royal Oxford is a beautiful, flashy dress shirt fabric. It has an elaborate weave that gives it a distinctive, significant texture. It's usually very shiny. Royal Oxford fabric is well known for its softness.
Something about the weave makes the yarns puff out a bit and it just feels cushy and nice. Don't confuse Royal Oxford cloth with regular oxford cloth, or pinpoint oxford cloth. They are totally different.
Regular oxford cloth is a much heavier, rougher, and casual-looking fabric. Pinpoint is great for both everyday business and formal looks as well.
However, Royal Oxford, particularly in white is best suited for your most formal of occasions, either with a suit or tuxedo.
Because Blue and White Check Royal Oxford fabric is such a fancy looking fabric, we especially recommend it for french cuff dress shirts and wide spread collar dress shirts. Pair a nice fitted dress shirt with a dark navy suit and you'll feel extra sharp. Blue and White Check Royal Oxford
DIFFERENCE BETWEEN POINTED AND OXFORD CLOTH
Pinpoint Oxford, commonly called simply "pinpoint" for short, is a very popular type of dress shirt fabric. It is elegant and durable.
It has a slightly matte and crisp finish, though not as silky and flat (thin) as a wide cloth, and it's definitely not as shiny as Royal Oxford or twill. It works well on both formal and casual occasions.
A pointed dress shirt feels a little more substantial than a wide cloth dress shirt, as it is a little thicker and therefore less transparent. Pointed fabrics and Oxford fabrics weave the threads together in the same way.
The difference between the fabrics is not in the fabric but in the thickness and weight of the threads that are used.
Pinpoint generally has a higher thread count and a thinner, tighter weave than Oxford Cloth. Therefore, accurate dress shirts are preferable to oxford cloth dress shirts in informal situations.
Pinpoint makes it a stylish wedding dress shirt or business interview dress shirt, while oxford fabric would be more suitable for casual or outdoor best marriage event. This is a great shirt also below.
FABRIC TECHNICAL DETAILS
Suggested Style:             Business and casual
Weave:                                Royal Oxford
Composition:                   100% Egyptian Cotton
Thickness:                       Medium-light Weight
Wrinkle Resistance:    3/5 Wrinkle Resistant
Shrinkage:                        Standard shrinkage allowances applied
Additional information
| | |
| --- | --- |
| Collar Size or Measurement | Body Measurement, Shirt Measurement, 14/32, 14/33, 14.5/32, 14.5/33, 15/32, 15/33, 15/34, 15/35, 15.5/32, 15.5/33, 15.5/34, 15.5/35, 15.5/36, 16/32, 16/33, 16/34, 16/35, 16/36, 16/37, 16.5/32, 16.5/33, 16.5/34, 16.5/35, 16.5/36, 16.5/37, 17/33, 17/35, 17/32, 17/36, 17/37, 17.5/33, 17.5/34, 17.5/35, 17.5/36, 17.5/37, 17.5/38, 17/34, 18/33, 18/34, 18/35, 18/36, 18/37, 18/38, 18.5/34, 18.5/35, 18.5/36, 18.5/37, 18.5/38, 19/35, 19/36, 19/37, 19/38, 19.5/35, 19.5/36, 19.5/37, 19.5/38, 20/36, 20/37, 20/38, 20.5/36, 20.5/37, 20.5/38, 21/37, 21/38, 22/38, 22/39, 22/40 |